New Draft Text Shows Progress On WIPO Treaty On Books For The Print-Disabled
Published on 25 June 2013 @ 12:00 am
By Catherine Saez, Intellectual Property Watch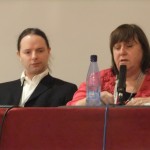 Marrakesh, Morocco – Negotiators were still hard at work here at press time trying to reach the deadline of tomorrow (25 June) set by the president of the diplomatic conference, to get agreed language to a drafting committee tasked with delivering a treaty text. The treaty is intended to confer on visually impaired people a wider access to books by providing exceptions to copyrighted works in special format.
This afternoon (24 June), an informal consolidation of a draft text [pdf] of the international treaty on limitations and exceptions for visually impaired persons/persons with print disabilities was issued by the WIPO secretariat. The diplomatic conference convened to adopt the treaty is meeting in Marrakesh from 17-28 June.
The text reflects improvement on some thorny issues, and includes agreed-upon language.
Tension is palpable among delegates, with some describing mounting pressure, although most recognise progress, and display guarded optimism. Most of the main issues were said to be close to resolution by several sources, fuelled by the energetic reminder of time running short at the close of last week, by both WIPO Director General Francis Gurry and President of the Diplomatic Conference Mustapha Khalfi, the Moroccan Minister of Communication.
Among those, what is now referred to as the "three-step test gap" (formally a double issue of the three-step test and the so-called Berne gap), which was resolved on 22 June (IPW, WIPO, 24 June 2013). It appears, however, the text was only agreed at the regional coordinators level and subsequently not released, until it has been presented formally to Committee I in charge of proposing text to the Drafting Committee starting work tomorrow.
Remaining issues are subsequently technological measures, such as technological protection measures (TPMs). This lies in Article 7 (Obligations Concerning Technological Measures – previously Article F in the original draft text [pdf]). It currently says that TPMs cannot prevent beneficiary persons from enjoying the limitations and exceptions established in the treaty. In a previous draft [pdf] issued on 22 June, Article 7 still showed two alternatives.
Also pressing on the agenda is the issue of commercial availability, which most developing countries and representatives of the blind insist not be included in the treaty text, as confirmed by sources. This clause would call for an exporting entity recognised as an authorised entity to check if commercially available copies of the copyrighted work are available in the importing country.
Publishers and developed countries have said this is important as it would provide an incentive for publishers to engineer, market and distribute special format copies, reaching the goal of visually impaired people of creating wider access to works.
According to some sources, as of this afternoon, several options were still being considered, one of which is carving out the clause from the treaty. Another one includes language to the effect that whenever an authorised entity in a contracting party requests a copy of an accessible format copy, such request would constitute sufficient evidence that the work requested is not commercially available in the importing country.
Commercial availability appears in Article 5 (former Article D) on cross-border exchange of accessible format copies, in paragraph 3, and Article 4 (former Article C) in paragraph 4. Article 5 paragraph 4 contains the first breakthrough language agreed upon on Saturday evening (22 June), with the two agreed statements in footnotes 13 and 14.
It appears that the European Union is still strongly in favour of keeping the option of commercial availability in the text, other developed countries having a lesser insistence, according to sources. The EU would consider commercial availability as a guarantee in the context of direct distribution to individuals.
Direct distribution to individuals, which would allow individuals to directly access books in other countries, by for example using a platform such as Bookshare to download books, is also on the agenda of negotiators, said to have to work tonight until most issues are solved.
The right of translation also has to be discussed by delegates, as well as the inclusion or not of the concept of "fair use."
According to sources, substantial issues are being discussed in a hotel nearby the conference centre, in what are described as "informal informals".
Civil Society, Publishers
Several civil society representatives and one publishers' representative were gathered for a side event organised today by Knowledge Ecology International.
Maryanne Diamond, immediate past president of the World Blind Union, insisted on what WBU considers as crucial to the treaty, such as direct distribution to individuals, the exclusion of commercial availability references in the treaty, and the assurance that TPMs cannot block the access to books for visually impaired people. WBU needs to look at the entire text to evaluate if the treaty will meet the needs of the people who need it, she said.
The issue on the right of translation is not a core issue for WBU and not an issue that was originally brought to the table. Although they are supportive of the right of translation, this should not be used as a bargaining tool against other crucial issues, such as commercial availability, she said.
Dan Pescod, who leads the World Blind Union's European campaign, added from the audience that commercial availability is "allegedly perhaps the biggest sticking point" still facing negotiators. If commercial available copies of books were really accessible in the mainstream, at reasonable prices, he said, blind people would buy them or get them from libraries." It is the way the world works," he said. Publishers should think about the reassurance provided by this point of view, he said, adding, "We will not undermine the market because we want that market to happen."
Carlo Scollo Lavizzari, legal counsel for the International Association of Scientific, Technical & Medical Publishers (STM), said the community he represents shares the same goals as the blind community, which is to provide wider access to special format books. There is a space for the private sector which should be respected, he said. "We want the right to be in business" but the publishers have a feeling "that this right is questioned here," he said.
"We both want a treaty. We both think that it must enable the exchange in an orderly fashion without being bureaucratic," he said, although "we have a different opinion on the merits of IP generally," he said. "We are willing to work with the system and produce equal access at the end."
"There are, in our view, almost two treaties being negotiated at the same time," he said. "One with little quarrels with your position," and the other as the treaty that is the first in a line of many that will chip away at the IP system, he said.

Pranesh Prakash of the Centre for Internet and Society in India gave an example which he said translated the imposition of commercial availability in the treaty. "Imagine if someone said if a book is not commercially available, you are not allowed to take it out from a library, now that would be an unacceptable limitation, but that is more or less what is being put into the treaty right now," if it includes clauses on commercial availability, he explained.
There is talk right now, he said, on the possibility of some kind of liability put on authorised entities in the context of direct distribution to individuals, he said. "This is a very bad idea," he commented.
If such an idea is taken on board, then "let's impose it on everyone," he said, on libraries who serve individuals, companies like YouTube, "and make them liable for each copyright violation." Why should authorised entities dealing with the blind be treated differently and bear a higher level of liability? he asked.
Marcus Low for the Civil Society Coalition said the reason for the treaty was "a shameful failure" on behalf of the publishing industry in making available special format copies of works. The European Union and the United States, he said, let their positions be dictated by publishers and are showing "very little moral backbone on this issue."
He also paralleled the opposition of the EU on translation rights with colonised countries, and on languages being forced on them, saying that a lot of special format works, are, for example, in English, while English might be the third language of users in developing countries.
Low begged negotiators, when they evaluate different proposals, to think about the impact it will have on blind people. "This is my life you are talking about, it's my future" he said.
On distribution to individuals, he cited Swaziland where there are no authorised entities and where people could only benefit from the treaty if they could have an individual distribution of works. "If this treaty does not help someone in Swaziland, is it really worth it?" he asked, adding "better to have no treaty than a poor treaty."
David Hammerstein, of the TransAtlantic Consumer Dialogue (TACD), said the EU negotiators in the negotiations are not following a resolution voted by several members of the European Parliament, who supported the demands made by WBU. He said that last month during a parliamentary debate in Strasbourg over 20 speakers supported the positions of WBU.
"Who are they working for?" he asked, saying that the common good has to take priority.
Among concerns about the negotiations is "what is closed is not closed," such as TPMs, and authorised entities, he said. Nothing in the treaty prevents commercial incentive, he added. On fair use he said it is a "massive hypocrisy" and a display of double standards from the EU and the US, in a "do as we say and don't do as we do" format.