WHO Executive Board Concludes After 'Unpredecented' Workload
Published on 30 January 2013 @ 1:02 am
By William New, Intellectual Property Watch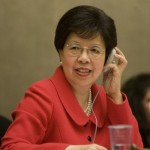 The World Health Assembly's rotating Executive Board meets twice a year, and on 29 January concluded its 132nd meeting with what the WHO director general termed an "unprecedented" amount of agenda items and documents.
The Executive Board met from 21-29 January. All documents from the meeting are here.
The agenda was loaded with heavy issues. WHO Director General Margaret Chan, who alternately explained, sang, and cried during the week, concluded the meeting by saying it had been an unprecedented session, with an unprecedented number of items (nearly 60), an unprecedented amount of documents to read (over 1,000 pages), and a huge turnout for a Board meeting, with 885 people on the first day.
She said this is being read as a sign of the interest in the WHO. And while there were many agreements during the week, Chan said, "we need to do better in the future," particularly with regard to a sticky reform process at the UN agency.
One of the reasons the WHO has such a full agenda is that it has standing administrative issues (including updated rules on election of the director general and program and budget), longstanding policy initiatives, as well as new initiatives, such as the global vaccine action plan and a plan for noncommunicable diseases (NCDs, like cancer, diabetes, cardiovascular and chronic respiratory diseases). But pressure also was on member states to work on WHO reform, finding a balance on how much to micro-manage the WHO's affairs, especially as it is seeking room to manoeuvre to gain financial viability. The majority of WHO's funding is earmarked, according to sources, leading to restrictions on its say in how it is spent. But member states also want transparency.
When Chan heard a European proposal to amend changes to WHO financial rules, she broke into tears, sobbing, "The bottom line is, membership does not trust the secretariat." She chastised them for controlling a budget that is only on paper. "When you approve the budget in May, that's not real money," she said. "You're kidding yourself."
"I have ten seatbelts on me," she continued. "I cannot move an inch." Australia came to her aid, pushing others to "show flexibility" and accept the document with a few minor edits, on the notion that they can change it later if they don't like it.
A Brazilian delegate cheered things up later when it referred to its neighbour, Argentina, and sang back to Chan: "Don't cry for us, Doctor DG, the truth is we never left you. We re-elected you, and will give you money. We do believe in you, and trust you fully."
Then after a break, Europe came back and offered a softened amendment.
Outcomes
But despite the range of emotions, most of the long days were spent grinding through issue after issue. Below are a few items related to issues of innovation, intellectual property, and R&D.
One of the more strenuous topics was WHO reform, which was conducted mostly in closed, informal sessions, and is tied to heart of WHO as an independent body (IPW, WHO, 25 January 2013). The informal process was led by Australia, which has had conflict of interest problems in the past at WHO. The informals led to adoption of a set of "decision points," or changes to WHO policy. The documents were EB132/5 and a series of additions. A small last cluster of draft additions was addressed near the end of the meeting and is available here [pdf].
On noncommunicable diseases, the Board considered a report, EB/132/6 [pdf], of the November meeting on a global monitoring framework on the prevention and control of NCDs (IPW, 9 November 2013). They also considered an action plan (EB132/7 corr.1). They decided to hold consultations on the issue likely in March, and then pass it on to the May Health Assembly, according to sources.
On neglected tropical diseases, those predominantly affecting developing countries and for which there is little economic incentive for research and development, the Board operated on two apparently unrelated tracks.
First, they heatedly discussed the report from a November meeting on financing R&D for neglected diseases (IPW, WHO, 28 January 2013).
Then they approved a modified draft resolution, EB132/R7 [pdf], on neglected tropical diseases after removing a reference to a working group on R&D for neglected diseases as "irrelevant" (IPW, WHO, 28 January 2013).
On the issue of so-called substandard/spurious/falsely-labelled/falsified/counterfeit (SSFFC) medical products, the Board discussed and took note of a report, and agreed to set another meeting on the issue before the May World Health Assembly, as well as set up a separate group on behaviours that lead to this problem (IPW, WHO, 28 January 2013).
On the WHO Pandemic Influenza Preparedness (PIP) Framework, Executive Board members discussed and took note of the report, EB132/16 [pdf], from the PIP advisory group (IPW, WHO, 28 January 2013).
The WHO has not completed negotiations with companies on a formula for contributing toward the new framework, but companies are paying to access the virus anyway. Meanwhile, one agreement was announced and more are in negotiations.
Separately, a draft resolution, EB132.R6, was prepared on the scale of assessments, how much countries have to pay in 2014-2015. The United States is far and away the leader, at 22 percent, followed by Japan at about 10.83 percent, and Germany at 7.14 percent, and India at 6.67 percent. China was in roughly the same range as the other major European countries.
The next Board meeting will take place on 29-30 May, immediately after the annual World Health Assembly.
[Editor's Note: an update on polio was published here (IPW, WHO, 3 February 2013).]