Stevie Wonder In Marrakesh: Today Is A Very Good Day, Now Go Ratify The Treaty!
Published on 28 June 2013 @ 7:49 pm
By Catherine Saez, Intellectual Property Watch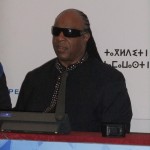 Marrakesh, Morocco – True to what he said in a 21 June video message, world-famous blind songwriter and performer Stevie Wonder kept his promise to come to Marrakesh if delegates agreed on a treaty to improve access to published material for blind people.
As delegations took turns this morning signing the treaty or its final act, Wonder addressed the plenary room and then was a special guest of the press conference closing the World Intellectual Property Organization diplomatic conference, held 17-28 June.
"I am truly happy to be here," he said. "Today is a very good day. Today my heart is at peace," he told the plenary, congratulating them for the hard-won treaty. "I am here today," he said, "because all of you made a commitment to do good."
This victory is most significant for many reasons, he said. It is significant for visually impaired people, but it also sends a message to the world leaders "that is it possible to do business and do good at the same time," he said.
This is an historic treaty, he said, and "I am respectfully and urgently asking all governments and states to prioritise the ratification of this treaty, so that it becomes a law of the land," he urged.
"Today, you have truly allowed many dreams to be awakened and information to be accessible forever." – Musician Stevie Wonder
At the press conference, when asked if he would keep his commitment to the treaty and its implementation, he said "I have said a long time ago and I say it again today. I will not be done with my commitment until my life is done. I will not be happy until everyone on this planet is able to see in the various ways they are able to."
"To have information that is accessible to those who are blind and visually impaired, of course I am going to be there with you and I hope that everyone else sighted and otherwise will do the same."
"I wrote a song," he said, "called, 'Where fears can't put dreams to sleep', and I want to share a little bit with you. It says: 'from out of a dream there came to me a question, the kind of question that just won't let you be. The question was if I was blessed with the gift of sight what would I most in life want to see. It reminds me of an old story about a man who had no control of his limbs at all who was asked: if you could walk and touch what would you do?"
"And he said, as I recall, 'If my eyes were to see let them be the witness of a world that is color free. And if my limbs were to move let me walk and touch in a land where hate could no longer be. And if my ears were to hear let it like the sweetest music be unity and harmony. And if my mouth were to speak, let me talk about a world where love's for all and fear can't put dreams to sleep."
"Well today, you have truly allowed many dreams to be awakened and information to be accessible forever," he said.
Now, he said, the treaty needs to be ratified everywhere.
"Here is the bottom line: We will get this ratified," Wonder said, adding the warning, "I would not want to write a song to get other singers to sing along with me, and other rappers to rap, to talk about those countries who did not ratify."