Interview With WIPO Director General Francis Gurry On New WIPO Treaty
Published on 27 June 2013 @ 6:25 am
By Catherine Saez, Intellectual Property Watch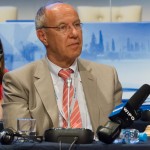 With this week's agreement in Marrakesh, Morocco on an international treaty to ease cross-border access for the blind to copyrighted books, the UN World Intellectual Property Organization has completed its second treaty in the past 12 months – with more potentially on the way. WIPO Director General Francis Gurry sat down with Intellectual Property Watch's Catherine Saez in Morocco hours after the treaty text was agreed by WIPO members to discuss what it means.
Intellectual Property Watch (IPW): Can you tell us why the treaty is important?
Francis Gurry (FG): For WIPO, as an organisation, I think it is extremely important that we maintain our relevance to economic rulemaking. The member states are demonstrating that they have the capacity to tackle specific problems, and to achieve a consensus on a result for those problems.
For intellectual property, it is very important, because this is a treaty which was needed. It addresses a problem which needed to be solved in the IP system. Essentially, the cross-border transfer of works in accessible formats under certain exceptions. It shows that the IP system can be expansive and take care of the interests of the beneficiaries of the IP system, and take care of the interests of all parts of society.
For multilateralism, it is important because the international community in general has a limited capacity at the moment to achieve agreement, and it is good to have a success for multilateralism. The treaty is a demonstration that you can get things done through multilateralism.
And, of course, we did this for the visually impaired. There was a problem. It needed to be addressed and I think in the end the international community has stepped up to the mark and demonstrated that it was capable of doing that. For beneficiaries, it delivers a system which is simple, efficient and which is going to make a difference in ending the book famine.
IPW: Can you describe what this treaty will achieve?
FG: Essentially two things. First of all the treaty universalises an exception, and I use that to cover licensing schemes as well. The exception to be able to create works in accessible formats exists in the laws of some 57 countries, but there are 192 in the world. So the treaty universalises this exception. A country signing on to the treaty undertakes to have such an exception in their laws at the national level.
The second thing it does is it that it makes those exceptions talk to each other. In other words, if you create an accessible format copy under an exception in one country, you will be able, because of the treaty, with legal certainty, to transfer that copy in accessible format to another country that is a contracting party.
Of course there are various assurances built around those two things to make sure they operate within the context of the copyright system.
IPW: Stakeholders and delegations said WIPO greatly helped in the process. Could you specify how WIPO tried to help this process?
FG: This happened because member states had the political will to make it happen and that is really important.
What we do, I think, is just try to make sure member states are on track in translating their political will into results. We try to be of assistance to the process by talking to various parties and being a messenger between parties.
IPW: Would you say that the fact WIPO supported the presence of a large representation of visually impaired really helped the case?
FG: I think so. Great credit to them! They did it in the first place. They identified the problem and brought that to the political attention of policymakers. Their persistence and self-belief that they were capable of doing this was admirable.
IPW: Unanimous satisfaction was expressed at the outcome, with only a little reservation from some of the publishing industry representatives. In the light of alleged industry pressure influencing the EU and the US, would you say that is a good sign that lobbying influence in this instance, although taken into account, did not overrule the general public good in the end?
FG: Absolutely. But let's pay some credit to the publishers. They agreed that a treaty was necessary. I think they had the political maturity to accept that a treaty was going to come and the political maturity to agree that it was a good thing. What they wanted to do is to make sure that their interests were appropriately protected and I think that is something that one can't criticise.
The fact that you found no dissenting voice about the result is a great success and I think that if the right holders were unhappy we would know it. They may not have seemed to be the most happy but we have not heard any complaint. It is important that lobbying does not determine the results.
IPW: This is the only treaty that provides an exception to copyright, although exceptions to copyright are enshrined in several international copyright treaties. Do you think that could be a step in the door for other exceptions?
FG: I would prefer to look upon this result as a complete result in itself. One step at a time: Here there was a specific problem and a specific solution. I think we can make progress by focusing on specific questions rather than having general ideas.
IPW: One developing country delegate, in his opening statement, mentioned exceptions for education, libraries, and archives, which are still on the agenda of the WIPO Standing Committee on Copyright and Related Rights.
FG: If one talks about them in a general or theoretical manner, it raises fears, so we have to deal with these things in discreet, sequential ways.
IPW: WIPO has been successful lately, Beijing last year [audiovisual treaty], Marrakesh this year. Other potential WIPO treaties are in the pipeline, the design treaty and the broadcasting treaty, maybe also a treaty on the protection of traditional knowledge, genetic resources and traditional cultural expressions. Will Marrakesh, which was a difficult one, encourage countries to be a little more daring in taking steps outside their usual stances?
FG: I hope so. I think the experience of both Beijing and especially Marrakesh have been a learning process. We all have learned. All the member states, everyone has learned a lot out of this. We are more mature as an organisation as a consequence because we've seen what the influence of lobbying is like, we've seen the political complications and the political dimensions.
We've seen how things can easily get off the track, and how to bring them back. So it's been a real learning experience for us all. And I hope that gives us an enhanced capacity to be able to tackle these other questions that are on the agenda although, again, none of them is easy. But if we apply the know-how that is accumulated within the organisation to the other ones, theoretically we should be able to continue to make some progress.
In general, I think the treaty is a wonderful result. First, because to see the beneficiary community so pleased with the result is very touching and makes all the pain of the negotiations worthwhile and, secondly, because I think everyone is pleased with the outcome here and everyone feels that we have actually contributed to helping to resolve the problem in a very concrete manner and in a way in which everyone's interests have been paid attention to. Nobody has been left out in this process. The organisation should be proud of the process that has been conducted.