Alongside Celebration Of New Treaty In Marrakesh, Blind People Demonstrate For Jobs
Published on 27 June 2013 @ 9:19 pm
By Catherine Saez, Intellectual Property Watch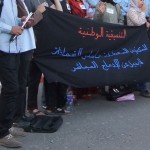 Marrakesh, Morocco – As World Intellectual Property Organization delegates were giving their closing statements after today's adoption of the Marrakesh treaty for the blind that some called a miracle, just outside the door of the Palais des Congrès, a large group of blind people was demonstrating to bring attention to their need for employment.
According to one of them, they were trying to raise awareness to their plight as the attention was focused on the success of a treaty to help the cause of blind people.
All of them, the person said, are educated and cannot find any employment, whether in private or public institutions.
After going through many hurdles to get an education, putting up with numerous barriers and in constant reliance on others for help, they are desperately trying to get jobs, the person said. Jobless and poor, the blind community, according to the source, faces many problems in Morocco.
Happy and proud about the treaty, which is expected to provide more access to special format books for visually impaired people, the group's main concern is access to work.
"I can do something, I have studied, I have already made a huge effort, so I can work," she said. The blind people from the group came from cities across Morocco, such as Casablanca and Rabat.
"We hope we will find ears here, which will give us attention and a little bit of their time." One of the main demands of the group, besides getting the possibility to work, is the implementation of the United Nations Convention on the Rights of Persons with Disabilities, to which Morocco is a signatory.