WIPO Demonstrates 3D Printing: Making The Impossible Possible
Published on 25 April 2013 @ 11:44 pm
By Catherine Saez, Intellectual Property Watch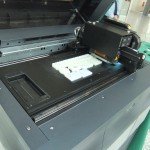 Experts in the field of three dimensional (3D) printing, invited by the World Intellectual Property Organization, today tried to demystify this technology, which has been much talked about but still not very well understood. Seen by some as a futuristic technology, 3D printing can achieve amazing results but also has technical limits and is not expected to yet lead to a manufacturing revolution.
The hallway of the WIPO new building hosted a uncommon display of surprising objects on 25 April, a foldable seat made of plastic that once folded vaguely resembles an umbrella, a pair of improbable antique lace high heels plastic shoes, and a collection of equally strange items, all of which were made with 3D printing technology. A "3D printer" was also busy manufacturing a set of plastic objects.
But 3D printing is not as frivolous as it seems, as many applications can be found in areas such as biology, medical treatments, and the serious-minded Ecole Polytechnique Fédérale de Lausanne (EPFL) will launch 3D print operations in July 2013 to help researchers with prototypes and models for use in the school's 80 research laboratories.
WIPO Director General Francis Gurry, chairing the panel discussion organised by WIPO, said 3D printing has potentially enormous implications for manufacturing capacities throughout the world. One of the reasons for the patent system is that technologies are disclosed, Gurry said. In the case of 3D printing, the first patent filing was in 1971and the first patent was granted in 1977, so the technology is now in the public domain, he said.
For Carla van Steenbergen, legal counsel at Materialise, a company specialised in 3D printing, the correct terminology to describe this technology is "additive manufacturing," as it only is loosely related to printing. It really is not as simple as pressing the button of a printer, all panellists said. It gives the possibility to manufacture a piece of hardware from digital information, from a computer file containing a design, van Steenbergen explained. The object is then done layer by layer.
Olivier Olmo, director of operations at EPFL, said several different technologies are available on the market and some are easily found on the internet where people can buy or build their machine. But there was a core difference between professional machines and machines that can be accessed or built by the public in terms of quality and possibilities.
The main differences between professional machines and the ones accessible by the public is the complexity of the pre-processing of the data that could prove very complicated and not easy to use, he said. The possibilities offered by machines found on the internet are limited to small objects, such as glasses or handles. At EPFL, he said, this technology offers new opportunities to all the laboratories for research purposes and design of prototypes, although there is a limit to the technology.
Gurry asked what brought the "media hype" around this technology. Van Steenbergen said additive manufacturing applies to many areas, such as in the medical field, like custom implants for hip replacement surgeries. The surgeon will be able to manufacture a custom-made implant from the magnetic resonance imaging of their patients, taking their age into account, van Steenbergen said.
"It makes the impossible become possible," she said. Some uniqueness and complexities can only be addressed through additive manufacturing, she added. Simon Jones, partner in DLA Piper's Intellectual Property & Technological Group, concurred and said the technology has many applications such as human bones, clothing, pharmaceutical products, and pieces of furniture.
One of the benefits of the technology, is that products can be manufactured anywhere, without the need to move them halfway around the world, he said. It also allows small scale production, he said, with societal and ecological benefits, he added.
Several speakers said problems could occur concerning the quality control of the products and as the technology is more widely spread there would be a need for regulatory standards and measures, in all areas, and in particular in the medical sector. Intellectual property might also become an issue as the technology spreads and illegal copying might be hard to avoid, Jones said.
Erik Ziegler, one of the co-founders of Prevue+Medical, a start-up specialised in 3D printing in medical applications, said that currently the US Food and Drug Administration does not have any regulation on products issued from 3D printing.
Additive manufacturing has huge possibilities and is game changing, van Steenberger said, as "we are doing things that we could not have done 20 or 30 years ago." But even if 3D printing can appear as a miracle technology, van Steenbergen said classical manufacturing appears to be here to stay, as 3D printing at this stage cannot represent an alternative.
Some limitations stem from the fact that some materials cannot be used with this technology, said Olmo. Some 10 or 20 years down the road, 3D printing might be a revolution in terms of technology available for everybody. Then IP protection and regulation will be necessary, he said.
According to Van Steenberger, Materialise is "flooded" by demands from people wanting to apply 3D printing to their products, but, she said, the applications and use of the technology have to be for the right purposes.