East African Community Doubles Efforts To Boost Local Pharmaceutical Production
Published on 28 March 2013 @ 3:27 pm
By Rachel Marusak Hermann for Intellectual Property Watch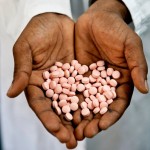 Arusha, Tanzania – Pharmaceutical manufacturers in East Africa have joined forces to strengthen their production capacity to meet at least half of the region's demand for affordable, quality medicines. The East African Community is supporting this ambitious goal through various initiatives, including a regional intellectual property policy to guide partner states on developing national legislation that fosters local pharmaceutical production.
Today, partner states of the East African Community (EAC) – Burundi, Kenya, Rwanda, Tanzania, and Uganda – import about 70 percent of the medicines the region's population consumes. The EAC, a regional intergovernmental organisation, has made reducing the region's dependence on pharmaceutical imports a priority.
From a public health perspective, EAC policymakers argue that stronger regional production capacity would improve the reliability of supply, market surveillance, and sustainability. It would also support the region's economy through job creation and capacity building.
In this context, the EAC has initiated several processes to improve the region's operating environment and promote local pharmaceutical manufacturing. This includes supporting the establishment of the Federation of East African Pharmaceutical Manufacturers (FEAPM), and most recently, approving the "Regional Intellectual Property Policy on the Utilisation of Public Health-Related WTO-TRIPS Flexibilities and the Approximation of National Intellectual Property Legislation" [pdf].
Taking full advantage of the public health-related exceptions provided under the World Trade Organization Agreement on Trade-Related Aspects of Intellectual Property Rights (TRIPS) is a key tenet of the EAC's strategy to produce more quality medicines at home.
A Health and Development Opportunity
Founded in 2011, the FEAPM represents 30 local pharmaceutical manufacturers, of 40 that exist in the region, and is the industry's voice to the EAC. Its mission is to "strengthen local production capacity to meet at least 50 percent of the EAC's demand for affordable, quality medicines, by the year 2020" in part through the "utilisation of WTO-TRIPS flexibilities."
The establishment of the federation has been supported by the EAC and the Deutsche Gesellschaft für Internationale Zusammenarbeit (GIZ), an international enterprise owned by the German government. GIZ is one of the EAC's main partners and has been supporting TRIPS and the promotion of the region's pharmaceutical sector.
According to a TRIPS and Pharmaceutical Sector Promotion brochure [pdf], "Import of generic medicines from India or China initially increased access of the EAC population to high quality and inexpensive medicines. The Agreement on TRIPS has however restricted the production and export of inexpensive generic medicines by advanced developing countries."
EAC and GIZ partners warn that the price of newer essential medicines, such as increasingly important second- and third-line anti-retroviral medicines to treat HIV/AIDS, is still high, in many cases prohibitively so.
Here's where local pharmaceutical manufacturers have an opportunity to step in. Walter Thomas, an expert on TRIPS and Pharmaceutical Sector Promotion component of the EAC-GIZ Programme on Regional Integration, told Intellectual Property Watch that local companies have a unique advantage.
"In the context of HIV/AIDS, patients in the region are developing resistance to first-line treatments. And most of the generics are first-line treatments, so they need to move to second- and third-line treatments. But they are extremely expensive, like ARVs before generics came into play," he said.
"India may not be able to produce cheap second- and third-line ARVs as generics," he said. "So, this would be a huge opportunity for LDCs [Least Developed Countries] to tap into the market, with support of multinational companies and technology transfers, with the ability to produce generics without infringing IP laws."
Amending National IP Laws
However, this is largely not happening today, partly due to limitations of national legislation. According to a 2008 study by the EAC and the United Nations Conference on Trade and Development (UNCTAD), which analysed the extent to which partner states' patent laws reflect TRIPS flexibilities relevant for the access to medicines, countries are at "various stages of domesticating TRIPS flexibilities in their national laws."
Moses Mulumba, executive director of the Center for Health, Human Rights and Development (CEHURD), a non-governmental organisation based in Uganda, told Intellectual Property Watch, "East African countries are struggling to understand what they need to incorporate into their national laws in order to benefit fully from TRIPS flexibilities."
The EAC hopes that the regional IP policy, which was approved in February, will help to change that. The "Regional Intellectual Property Policy on the Utilisation of Public Health-Related WTO-TRIPS Flexibilities and the Approximation of National Intellectual Property Legislation" provides guidelines on how to amend national legislation to be TRIPS-compliant, taking into account all public health-related flexibilities accorded in the TRIPS Agreement.
Aiming to harmonise IP laws across the EAC region, the policy identifies the lowest common denominator of IP legislation that can be used across all of the partner states and promotes a maximum use of public health flexibilities. This protocol, or model law, is included in Annex 1 of the policy document.
Four of the five EAC countries are LDCs, with only Kenya being classified as a Developing Country by the United Nations. Therefore, the transition period under TRIPS exempting LDCs from the obligation to protect patents on pharmaceutical products or clinical test data until 1 January 2016 – or later – is of particular importance. The policy calls on EAC LDCs to "take advantage" of this transition period and to allow for an eventual extension (IPW, WTO/TRIPS, 6 March 2013).
Mboi Misati, a senior patent examiner at Kenya's Industrial Property Institute, participated in the development of the IP policy as a regional expert. He told Intellectual Property Watch that parallel importation, a flexibility that allows a product made legally abroad to be imported without the permission of the IPR holder, is a "very important benefit for Kenya."
In Kenya, parallel importation is provided for under a provision of the Industrial Property Act of 2001, however, it is not harmonised with the Pharmacy and Poisons Act. Misati said that the "policy is important for all EAC partner states" and should help countries to "adjust their legislation so they can enjoy all of the TRIPS flexibilities".
Pushing Back on Tougher IPR Laws
The timing of this policy is particularly important, as there has been a wave of national and regional legislation threatening to hack away at countries' potential to benefit from certain flexibilities.
"In Uganda, the Industrial Properties Bill has been a point of particular concern since it was presented to parliament in 2009. It was developed in part by consultants from the US, who did not incorporate flexibilities to the extent that we actually need. For example, post-grant procedures were not articulated in the bill," Mulumba told Intellectual Property Watch.
"Working with our national policymakers on how to revise it has been a very long and tedious process. The situation is improving however now that they see that the EAC is using some of the same language that we have been suggesting," he said.
On a regional level, an EAC Anti-Counterfeit draft bill [doc] has come under fire for contradicting with the EAC TRIPS policy of promoting the maximum use of flexibilities for public health. However, it was referred to the EAC Sectoral Council on Legal and Judicial Affairs for legal input, including from the EAC Health committee, in October 2012.
While the EAC Health committee agreed that an anti-counterfeiting bill is long overdue, health experts stressed the importance of generics medicines to the region and the importance of safeguarding TRIPS flexibilities, according to sources.
The Council of Ministers will consider comments during its next meeting before the bill moves any further.
WHO Prequalification: Essential for Growth
In order for local pharmaceutical manufacturers in the EAC to grow, accessing the regional donor market is particularly important as it represents about 80 percent of the priority endemic disease market. However, donors such as the Global Fund to Fight HIV/AIDS, Tuberculosis, and Malaria and the US President's Emergency Plan for AIDS Relief (PEPFAR), require that manufacturers meet strict quality assurance requirements, such as WHO prequalification.
Only two of the region's pharma manufacturers – Uganda's Quality Chemical Industries Ltd and Kenya's Universal Corporation Ltd – have met this requirement. However, FEAPM is working with companies to help them upgrade their standards through training programmes.
Zenufa Laboratories Inc., one of Tanzania's four operating pharmaceutical manufacturers, has been meeting Good Manufacturing Practices (GMP) requirements since 2009. Today, the company is pursuing WHO prequalification on several products, including an anti-malarial combination drug developed in partnership with the Drugs for Neglected Diseases Initiative (DNDi).
Harvinder Singh Alag, CEO of Zenufa Laboratories Ltd, told Intellectual Property Watch, "Once we are WHO-prequalified, we can begin to look at new markets, with better margins. It will open doors for us."
Today, the company reports an annual turnover of USD 6 million, employs about 150 people, and projects continued growth. WHO-prequalification is a key part of the company's growth strategy, which would allow the company to move from producing smaller molecule drugs to advanced molecule treatments, according to Alag.
While Zenufa is performing well, Alag pointed to key challenges operating in the region including high financing costs, a lack of skilled workers, and a dearth of raw materials.
However, Alag said that recent efforts to improve operating conditions in the region have been helpful. Zenufa is a member of the FEAPM and regularly sends employees to trainings.
Additionally, Alag said that the federation is an effective mechanism to communicate with policymakers, noting that local pharmaceutical manufacturers are "definitely looking at a better scenario."
Related Articles:
http://www.ip-watch.org/2013/03/25/diverging-views-on-ipr-protection-needs-in-africa-emerge-at-ip-workshop/
http://www.ip-watch.org/2013/03/20/at-us-led-workshop-african-stakeholders-call-for-home-grown-ip-agenda/
Categories: Access to Knowledge, African Policy, Developing Country Policy, Development, Education/ R&D/ Innovation, English, Features, Patents/Designs/Trade Secrets, Public Health, Technical Cooperation/ Technology Transfer, WTO/TRIPS