Rules Changing For Life Sciences Tech Transfer, IP, Speakers Say
Published on 26 March 2013 @ 9:17 pm
By Catherine Saez, Intellectual Property Watch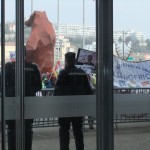 Lyon, France – Participants at a the Biovision international life sciences forum aimed at encouraging collaboration and integrating innovation shared experiences and discussed a number of topics including intellectual property strategy, technology transfer and the way forward for sustainable innovation.
Biovision, "the World Life Sciences Forum," has been organised every two years since 1999 by the Foundation pour l'Université de Lyon. The event brings together policymakers, academia, the private sector, and civil society. The 8th edition held from 24-26 March, titled "From life sciences to sciences for life" had six major areas of focus aimed at measuring environmental and biological factors on citizens' health.
For the first time this year, Biovision held several "investor conference" sessions, one of which – called "Building a sustainable environment for innovation in Europe" – featured a panel of speakers representing stakeholders such as the pharmaceutical industry and a research institute.
Rudi Pauwels, executive chairman and founder of Biocartis, a Swiss company manufacturing molecular diagnostic platforms, said the pharmaceutical industry for the last few decades has taken a too short-term approach. "We have been satisfied with our innovation but to be honest, most of our innovation has been incremental; it has been innovation to sustain what we were doing," he said.
The crisis in healthcare systems is a huge opportunity to create something new but there is need for a change in point of views, and to put the patient at the centre, he said.
"We have to think differently," and think of long-term sustainable outcome, he said, not only new drugs and new medical devices. As innovators, "we have to also ask ourselves the question, 'Is our innovation also sustainable and affordable?'," he said. Pauwels added that people in developing countries have the right to have access to treatments and represent huge opportunities for the industry.
Speaker: Return on Investment Cannot Drive Tech Transfer
Cécile Tharaud, CEO of the French Institut national de la santé et de la recherche médicale (Inserm), said western countries are trying to put a focus on using technology transfer processes, but this is "not an easy route," because it is not just about investing in technology transfer and teaching people to become tech transfer professionals. This is also about a general reflection from the states and the European Commission as to what return they want on their public investments in research, she said.
"My understanding is that those questions did not yet get a clear answer," she said and "we still see technology transfer people trying to get more return than they should on public investment," which leads to very lengthy negotiations where interests never get aligned.
"Some politicians still believe that they are going to get financial and economic returns on very early stages of technology transfer, and this may be right," she said, but "it cannot be the driver of technology transfer, otherwise it will paralyze the system very early on."
Tech transfer, according to Tharaud, should be a value creation step, and the outcomes and expectations are not yet clear enough at the political level. Partnerships between research and industry should be established all along the chain of drug development, she said.
Public, Private Sectors to Co-Create Innovative IP
People who are still talking about filing a patent and trying to get a licensing agreement later "are just on the wrong route, as this is an obsolete model," she said. There is a need to align interest with pharmaceutical and biotechnology companies to co-design routes for innovation, she added.
At Inserm "we do not focus on patent licensing," since industry does not licence patents without a collaboration agreement in place any longer, she said, adding that the institute is initiating discussions with industry to design routes of collaboration. The innovation culture in medium and large groups is evolving, sometimes in different ways, she said, and academia has to learn how to partner, in the cultural sense, to work together with industry.
Answering a question about IP strategy, Tharaud said that Inserm files patents early on. "If we let communication and publications go without an IP strategy early on, it would kill the potential for later, so we do have to file early on and then we abandon if needed," she said. More and more innovative IP is going to be co-created between public and private sectors, she said.
Pauwels said it is important that research be fundamental and unlimited. "We would not be where we are if somebody was not working on some kind of exotic idea" that turn out 10 years later to be a key element, he said. "We have to beat the idea that all of our research has to be directed by industry."
During a workshop on new biotech opportunities in the European Union, Jürg Zürcher, partner, biotechnology leader for the Europe, Middle East, India and Africa region at Ernst & Young, said the biopharma industry is adjusting its risk behaviours, reducing in-house research & development burden, sharing developmental risks, developing new products and services, and developing partnerships with venture capitalists to co-invest in early stage assets.
According to a comparative table shown to the audience, he said different European Union countries are offering vastly different conditions for biotech companies, including tax rates that could go from 12.5 percent to over 30 percent, different restrictions on use of losses, taxation of intellectual property income, and other benefits and grants, which can vary a lot, he said. He cited citing a joint report [pdf] by EuropaBio and Ernst & Young published in 2012, entitled: "What Europe has to offer biotechnology companies."
Sanofi Researchers Mildly Disrupt Biovision
A group of over 100 employees of Sanofi Research travelled from Toulouse, in the south of France, to demonstrate at the doors of Biovision on 25 March. Clad in white lab coats, they protested a decision by the pharmaceutical group to cut staff over the next three years, according to several sources. They hoped to meet Arnaud Montebourg, French minister of "productive recovery" (redressement productif), and Marisol Touraine, French minister of health and social affairs who paid a visit to Biovision on 25 March.