WIPO Reports Robust Growth In Demand For IP Rights In 2012
Published on 19 March 2013 @ 10:12 pm
By Tiphaine Nunzia Caulier for Intellectual Property Watch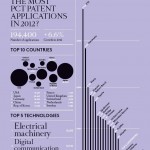 In a press briefing at the United Nations today, World Intellectual Property Organization Director General Francis Gurry described what he qualified as a robust growth in applications for patents, designs and trademarks despite the economic climate.
According to WIPO release, international trademark applications, under the Madrid system for the registration of marks, posted growth of 4.1 per cent last year, with a volume of 44,018 applications.
Japan, the United Kingdom and the United States accounted for 80 percent of that 4.1 per cent growth, explained Gurry, who added that individually, the biggest applicant was Novartis. The Swiss pharmaceutical company filed 176 trademarks applications last year.
Brazil, a major economy, is still outside the Madrid system, prompting a question about its entry. In response, Gurry said he was hopeful the entry of other developing countries into the Madrid system would provide an encouragement to Brazil, and that WIPO is optimistic that if it is not this year, then next year. "Certainly India's entry would provide further encouragement to Brazil. It makes no sense for Brazil to be outside the system," he said.
Under the Hague system for the international registration of industrial designs, the number of applications was of 12,454 last year. This is a growth of 3.5 per cent compared to the previous year. "Germany is the largest user of the system, followed by Switzerland and France, and the biggest individual user is Swatch group," Gurry reported.
The highest rate of applications happened under the WIPO-managed Patent Cooperation Treaty (PCT), and Gurry stressed the importance of this rate.
"This growth rate of 6.6 percent is a very high growth rate when compared to national growth rates," he said. Apart from exceptions like China, national growth rates are usually around 2 to 5 per cent. "So 6.6 per cent is very strong."
In the PCT context, he stressed that this rise is "probably due to, we believe, at least two factors. One is the importance of building strong intangible asset portfolios … and secondly, the continued expansion in particular in Northeast Asia. So, while demand may have been relatively less in Europe, it was quite robust in Northeast Asia."
To illustrate this point about the continued growth of Northeast Asia, he compared the data of PCT applications in China, South Korea and Japan in 2008 with the data from 2012.
He said that, while in 2008 China, Japan and South Korea accounted to 26.2 per cent of international patent applications, this number rose to 38.1 per cent in 2012.
"China, Japan and the US accounted for three-quarters of the 6.6 per cent growth in the PCT," he said, adding that "the US remains the largest filer of international patent applications."
The top five technologies protected under the PCT last year ranged from electrical machinery (13,293 applications) to digital communications (12,616 applications), closely followed by computer technologies (12,391), media technology (11,348 applications) and lastly pharmaceuticals with 7,792 applications.
Oil and gas companies were absent from the top five. Gurry explained that "mine and extraction technologies are important fields, but not as prolific as electronics technologies." He also stressed that, in the oil and gas domains, companies often have recourse to trade secrets which limits the need for PCT applications.
WIPO Chief Economist Carsten Fink said at the briefing that "the two fields that have seen the fastest growth in 2012 are electrical machinery and digital communications. That reflects that those fields of technologies have seen tremendous technological opportunities, a lot of innovation is happening. But also these are industries that are extremely competitive and where it has become really important to have a portfolio of patents to compete in the marketplace."
Tiphaine Nunzia Caulier recently graduated with a Master in International Law from the Graduate Institute in Geneva and UCLA School of Law. Through her work experience and academic interests she has specialised in international trade, intellectual property, and public health.