Packed WHO Executive Board Agenda Highlights Need To Streamline Priorities
Published on 21 January 2013 @ 5:55 pm
By Rachel Marusak Hermann for Intellectual Property Watch
World Health Organization Director General Margaret Chan today opened the 132nd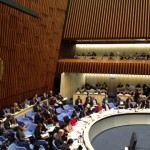 meeting of the Executive Board, the UN agency's highest authority, emphasising the importance of cost-effectiveness and results-driven operations at a time of global economic austerity and precarious funding.
Despite the emphasis on a judicious use of resources, Executive Board members face a whopping agenda, with some 60 items to get through by meeting end on 29 January.
WHO reform will be a central topic this week with substantive areas to be addressed including next year's budget proposal, engagement in partnerships, and human resource management.
Other key topics include advancing the global vaccination action plan, the framework and action plan for the prevention and control of noncommunicable diseases, the health research and development agenda, pandemic influenza preparedness, combatting poor quality medicines, and neglected tropical diseases.
All Executive Board documents are here.
From failing antibiotics and the growing prevalence of noncommunicable diseases (NCDs), to the rising cost of health care and shrinking budgets, the list of public health challenges described by the WHO chief in her opening remarks [doc] was long.
She called on Board members to keep this challenging context in mind as they move ahead on the reform process and work to define the post-2015 development agenda.
"The challenges facing public health are big and increasingly universal, but they are not insurmountable," Chan said.
Results-Oriented Partnerships
She pointed to the importance of "international health cooperation, whether stimulated, led, or simply facilitated by WHO" as a key strategy for the organisation in meeting public health challenges.
Partnerships brought significant public health gains last year. – WHO DG Margaret Chan
In particular, Chan highlighted a number of partnerships resulting in significant public health gains last year. Achievements included: widespread inoculation against epidemic meningitis in Africa thanks to a WHO and PATH partnership and support from the GAVI Alliance; a new diagnostic tool for tuberculosis made less expensive with partner support; and declining costs on antiretroviral therapy linked competition from WHO-prequalified generic manufacturers.
Chan gave significant attention to the progress that has been made in pandemic influenza preparedness (PIP), which she says has "opened new avenues for collaboration with the private sector."
Executive Board members will review a report from the PIP advisory group meeting in October with pharmaceutical industry representatives, civil society members, and other stakeholders to move toward a recommendation on a partnership contribution formula to determine payment modalities for influenza virus sharing.
Chan announced "encouraging results" which have happened since then. The WHO has struck a deal with GlaxoSmithKline concluding the first Standard Material Transfer Agreement 2, the contracts that allow the sharing of viruses with entities outside of the traditional WHO system.
In the deal, GSK will give the WHO 10 percent of its production of vaccines in the event of influenza pandemic. Additionally, the company will give the WHO up to ten million antiviral treatment courses.
Therefore, she said, "WHO can ensure that developing countries have access to pandemic vaccines and medicines at the same time as wealthy countries, eliminating months of negotiations and discussion. No more waiting. No more leftovers."
Additionally, Chan noted that pharmaceutical companies have started to make "partnership contributions," for a total amount of $US 18 million, which will go toward preparedness and response capacity.
"WHO can ensure that developing countries have access to pandemic vaccines and medicines at the same time as wealthy countries, eliminating months of negotiations and discussion." – DG Chan
Budget First, Programmes Second
Highlighting the importance of advancing organisational reform, Chan repeated her promise that the WHO would "exercise budgetary discipline and live within its means."
Executive Board members have ten documents related to reform to review, including the 2014-2015 programme budget to debate and modify for adoption at the World Health Assembly next May.
Chan called Board members' attention to the importance of this item, as the programme budget will become the "central accountability instrument to guide the work of the WHO."
Beyond the programme budget, Board members will also review how the WHO engages in partnerships that are hosted, but not governed, by the public health organisation. This issue is of capital importance given the growing importance of partners in WHO-led initiatives.
The third area of reform relates to managerial reform, which may allow greater flexibility in the hiring system. Since the beginning of the reform process, the WHO has reduced its staff by nearly one thousand.
Toward Action on NCDs
The prevention and control of noncommunicable diseases (NCDs) continues to take a growing place on the public health agenda and Executive Board members have two substantive policy items to review.
Last November, WHO member states agreed on nine global targets and 25 indicators on the prevention, control, and treatment of these diseases. Now Executive Board members are called to approve them as expressed in the draft comprehensive global monitoring framework and targets for the prevention and control of NCDs.
Additionally, Board members are also called to review the draft action plan for the prevention and control of NCDs for 2013-2020. While the Framework provides strategic direction, the Action Plan provides more detailed policy and programmatic actions to meet global NCD targets.
A Chance To Strengthen R&D Recommendations
A critical public health priority and a divisive policy issue, health research and development are likely to be addressed by Board members next Monday.
They will review the report of the open-ended member state meeting which analysed the report of the Consultative Expert Working Group on Research and Development: Financing and Coordination (CEWG) that met last November.
Non-governmental organisations (NGOs), including Médecins Sans Frontières (MSF, Doctors Without Borders) disappointed with group's recommendations, are calling for Board members to re-open the report to strengthen its recommendations.
However, it's unclear the level of political will exists to do so especially in light of a recommendation made in the report for "the adoption of the resolution by the WHA without re-opening it." The intergovernmental South Centre is highly critical of the addition of this statement given that "the report of the open ended meeting was adopted a few minutes before the end of the meeting by the small number of Member States present at this late hour."
Vaccines, NTDs, SSFFC
The Board is also called to review and "provide guidance" on the Global Vaccine Action Plan, which provides strategic direction on immunization priorities through 2020. MSF has noted that there are two key areas missing in the plan, including an indicator on bringing down vaccine costs and a more ambitions target on the development of better-adapted vaccine related products for use in developing countries.
Regarding neglected tropical diseases (NTDs), the Board is invited to consider a draft resolution on stepping up efforts to prevent, control, eliminate, and eradicate these diseases that affect the very poor. The WHO has given particular attention to the role of pharmaceutical company donations in its NTD strategy. Some critics caution that while donations are critical, they do not lead to sustainably lower medicine prices needed to treat these diseases over the long term.
Finally, the Board will also review the report of the first meeting of the member state mechanism on poor quality medicines, which met in Buenos Aires last November. The member state mechanism decided on a plan that focuses on strengthening regulatory capacities and to form a steering committee to monitor country compliance to the plan.