Inside Views
Inside Views: The Next Internet Revolution Will Not Be In English: New Multilingual URLs
Published on 3 December 2010 @ 12:46 pm
Disclaimer: the views expressed in this column are solely those of the authors and are not associated with Intellectual Property Watch. IP-Watch expressly disclaims and refuses any responsibility or liability for the content, style or form of any posts made to this forum, which remain solely the responsibility of their authors.
Intellectual Property Watch
By John Yunker
This year marks the first time a website address may exist fully in Chinese, Russian, Arabic, or other non-Latin scripts. Ten years from now, the percentage of English content could easily drop below 25 percent. But there are still obstacles to this linguistically local revolution.
This year marks the long-awaited emergence of top-level internationalized domain names (IDNs). In layman's terms, this year marks the first time a URL (a website address) may exist fully in Chinese, Russian, Arabic, or other non-Latin scripts.
To illustrate the significance of IDNs, this visual depicts about half of the currently approved IDNs positioned over their respective regions.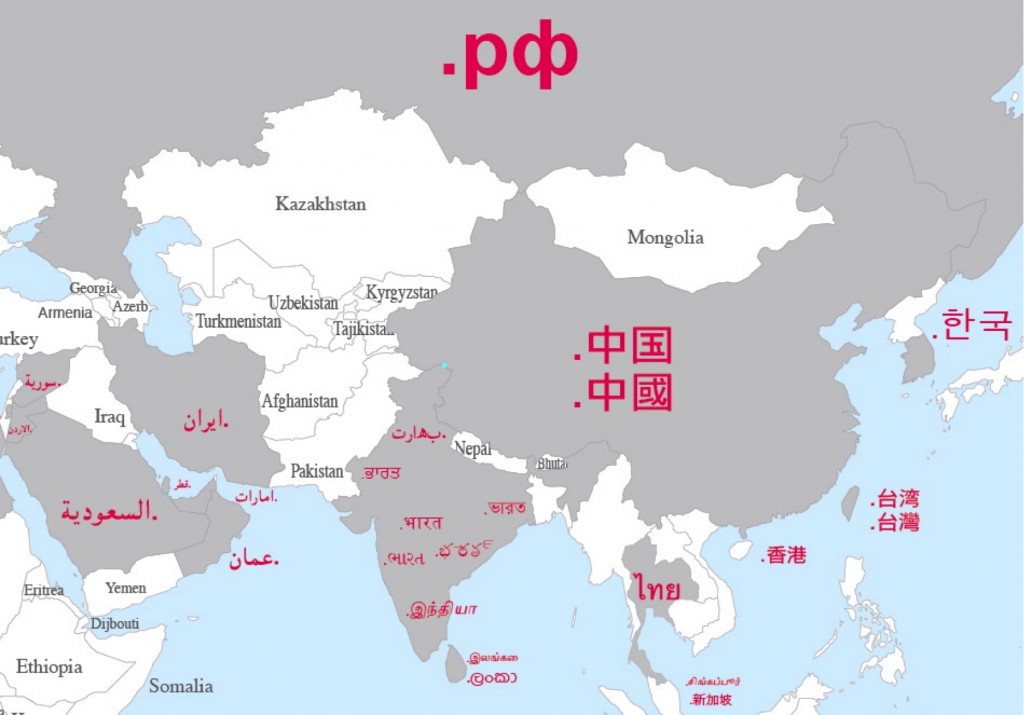 Note the wide range of scripts over India – a country with more than 20 official languages. Also note that Middle Eastern countries have been early adopters of Arabic IDNs. China figured prominently with IDNs (traditional and simplified), as does Russia's IDN, in Cyrillic characters, which stands for "Russian Federation."
I left off the Latin country code equivalents (.in, .cn, .th, .ru, .sa, etc.) to illustrate what the Internet is going to look like (at a very high level) in the years ahead.
These regions constitute more than 2.5 billion people, most of whom do not speak English as a native language. This region also represents where most of the growth in internet usage will occur over the next decade.
This next revolution is a linguistically local revolution. In terms of local content, it is already happening. Right now, more than half of the content on the internet is not in English. Ten years from now, the percentage of English content could easily drop below 25%. And yet there are a few technical obstacles that have so far made the internet not as user friendly as it should be for people in these regions.
A URL in Any Language
Imagine if every time you wanted to enter a URL you were expected to input characters from a different language, or worse, a different script. This is the internet as it stands today for more than a billion people.
IDNs promise to ease the pain for million of internet users, though not without causing a big of pain for companies that will find themselves needing to support IDNs. Although most modern browsers can handle IDNs, not all web applications can handle them properly. More important, few multinationals have been aggressive in either registering or using IDNs.
But the leaders of China and Russia have been vocal proponents of IDNs. Russian President Mednevedev said: "We must do everything we can to make sure that we achieve in the future a Cyrillic internet domain name – it is a pretty serious thing. It is a symbol of the importance of the Russian language and Cyrillic."
Not surprisingly, the Kremlin now has its own full-length Cyrillic URL in operation right now at: http://президент.рф. The Kremlin is not alone. The leading Russian search engine Yandex has its IDN working (http://Яндекс.рф), as does Russia's largest mobile carrier: http://МТС.рф.
I'm not suggesting that the Latin-based equivalents of these URLs are in danger of disappearing. They are here to stay. But I am suggesting we are entering an era where companies will be expected to support domains across multiple languages and scripts. This will have broad implications for the management and protection of global corporate and brand names.
How Local is Local Enough?
The big question every company must first ask is how best to localize its brand name for each market. Should the brand name stay as is? Should the name be translated into an entirely new name in the local language? Or should the name be transliterated, so that, when pronounced in the local language, it sounds similar to the original name?
Years ago in China, Coca-Cola went the transliteration route. The transliterated name features prominently on the home page of Coca-Cola China:
Most companies stick with one "global brand name" for the sake of simplicity. But this approach may be shortsighted. It is very possible in the years ahead that the very notion of a global brand name takes a back seat to market-specific brand names. While this is not the most efficient way to scale globally, the local markets may reward those companies that do make the investment. Only time will tell.
What is certain is that companies cannot afford to overlook IDNs. In the first three weeks since Russians have been able to register IDNs, more than 500,000 have been scooped up – a significant number. If you've missed out on a possible transliteration of your corporate name, you could already be dealing with an expensive process of purchasing it from a squatter (or an upstart local competitor).
Looking ahead, my advice is to work closely with your in-country offices to understand your users and how they find and use your websites. What search engines do they use? What browsers or mobile devices? Pay very close attention to social networking platforms. And invest the time now in educating your legal, marketing, and product development teams to the coming technical challenges and opportunities of IDNs.
We're inching closer to a linguistically local internet, in which users no longer have to leave their native language to get where they want to go. This is a positive development for making the internet truly accessible to the world.
---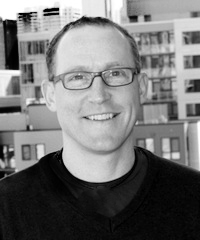 John Yunker, co-founder of Byte Level Research (bytelevel.com), is a leading expert on web and content globalization. He has written a number of landmark reports on web and content globalization, including "The Web Globalization Report Card" and "The Art of the Global Gateway." He also focuses on emerging best practices in the globalization of social media and mobile apps.