Musician Stevie Wonder Just Calls On WIPO To Improve Books Access
Published on 20 September 2010 @ 7:03 pm
By Kaitlin Mara, Intellectual Property Watch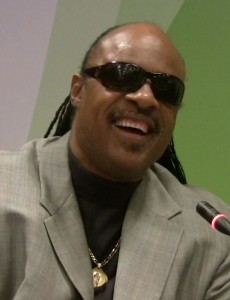 Grammy award-winning singer/songwriter and UN Messenger of Peace Stevie Wonder today called on the governments of the World Intellectual Property Organization to create a system for copyright law to assist those with disabilities in getting access to education and reading materials. It is time to "declare a state of emergency and end the information deprivation that continues to keep the visually impaired in the dark," he told assembled delegates.

There are "people who probably have far more to offer than myself who are locked in this prison because information is not available to them," Wonder later told a press conference.
What is needed is "a programme or foundation or system… that would make that information, that copyright available to those who are physically disabled in a way that does not infringe upon any of the rights, but clearly it's understood that the rights are given based on a person or group's disability," Wonder said in response to an Intellectual Property Watch question (see video below).
[Update: a transcript of Wonder's speech is available here [pdf] and a video of his full speech is available here.]
In a press conference, Stevie Wonder answers IP-Watch on copyright and knowledge access
"While I know that it is critical not to act to the detriment of the authors who labour to create the great works that enlighten and nourish our minds, hearts and souls, we must develop a protocol that allows the easy import and export of copyright materials so that people with print disabilities can join the mainstream of the literate world," Wonder told assembled diplomats, entreating them to "work towards a consensus."
Attempts to draft a treaty for the visually impaired have been under negotiation at WIPO for several years, but a disappointing setback at the last Standing Committee on Copyright and Related Rights left some despairing of quick progress on completing that treaty (IPW, WIPO, 26 June 2010).
Wonder said he was launching today a "declaration of freedom for people with disabilities," empowering them by "providing them with the tools to learn and grow."
"I understand that the EU, the group of Brazil, Mexico and Paraguay, the US and the Africa[n] group have proposed different plans on how to address the cross border transfer of information," for those who are visually impaired, Wonder said. "And there are issues on how to develop a protocol that has a binding effect, and at the same time respects the rights of all involved."
"It can be done," he said. "We have the greatest minds in the world right here in this room. Please work it out. Or I'll have to write a song about what you didn't do." He added that if WIPO could accomplish an agreement by next year, he would come back and sing a celebratory concert at the 2011 General Assemblies.
The World Blind Union, which has been a leading voice in the drive for a visually impaired treaty endorsed Wonder's statement and emphasised that "less than 1 percent of all published works in developing countries are available in accessible formats which visually impaired people can read [and] in industrialised countries this percentage is still less than 5 percent."
Wonder was speaking at the opening of WIPO's decision-making General Assemblies, taking place from 20-29 September.
At the top of the agenda for this year's Assemblies are discussions on a new strategic plan for WIPO, which is asking questions about how it can best play its role – as space for often very slow discussions and norm-setting processes on aspects of IP policy – in a world of increasingly rapid innovation and technical change.
"We are challenged by the fast pace of change in the external world," said WIPO Director General Francis Gurry in his opening statement to the Assemblies. Gurry also emphasised the importance of WIPO to innovation, and the critical role of innovation in meeting economic and social goals. WIPO's role is expanding too, he added, to include coordinating not only discussions on the legal framework surrounding IP but also the technical one.
[Update: a transcript of Gurry's full speech is available here.]
The WIPO General Assemblies opened today and with a "high level segment" in which ministers of several countries present their view on the role of innovation in growth and development.
Other headlining agenda items for WIPO's future aside from the visually impaired treaty are work on creating protection for traditional knowledge, genetic resources and folkore, improving the functioning of the Patent Cooperation Treaty, and the continuing implementation of the WIPO Development Agenda, said Argentina Ambassador Alberto Dumont, who is chairing the meeting. Dumont emphasised the key role that IP plays in the public policies of WIPO's member states.
The Philippines minister said it was possible to achieve innovation in the absence of IP and that it was important to see IP rights as not only affording protection for the rights holder but as tools for sustaining national development.
Stevie Wonder sings to diplomats at WIPO as a demonstration of why access is important.